Speleoforum 2012 and excursion to Piková dáma - propoj - Spirálka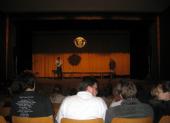 The annual meeting organized by The Czech Speleological Society – Speleoforum – was held 20-21.4.2012 in a village Sloup in the Moravian Karst. All basic organizations could present their most significant discoveries of the last year.

Traditional awards:
The most awarded group was "Javoříčko" for it´s discoveries in 2011 in CZ. That was a pity our club wasn´t awarded for the discovery of the fourth longest cave system in the world and equally the first longest mapped cave in the world.

On Sunday we had an excursion to the cave system called "Amaterské jeskyně" specifically "Piková dáma" and "Spirálka". Daniel called this visit as "physically healthy" which was true. The visit took about 5 hours. It was really fantastic trip and all of us enjoyed it a lot.
www.speleoaquanaut.cz